Health is a major concern in recent days as the pandemic has taken a toll on people's health. While the risk of being exposed to viruses and other infections is increasing each day and the health condition is going down, it is a must that we pay a lot of attention to maintaining a healthy physique. Finding and making use of the best fitness app will help you travel a long way in a sound body.
Dench City lets users read everything they need to know about bodybuilding. This 'Health and Fitness' Android app can be downloaded from the Play Store. It relieves you from the hassle of having to surf through every website on the internet to gather fitness news. The app is loaded with information from favourite people, the bodybuilding industry and from gym workout plans and so on. There are also bodybuilding videos from well-known bodybuilding and fitness YouTube channels and many other news sources. As you follow the industry, you can achieve the goals quite easier.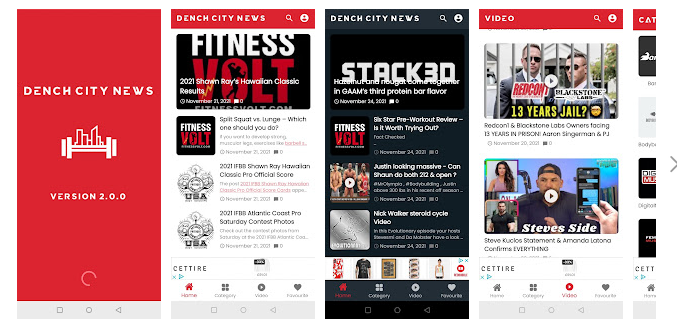 With Dench City, users can register and log in with an account. They can mark their favourite news in the app and share them with their kith and kin through various social media platforms. Dench City facilitates reading news from all the favourite sources under one platform. The app comes with four individual tabs namely: Home, Category, Video and Favourite. The website www.denchcity.com gives you all the latest bodybuilding news in a neat format along with the videos.
Dench City will be a motivation for you to achieve results in a shorter period. It guides you through a series of fitness regimes and can help you keep your body fit and stay healthier by adopting a better lifestyle. When you feel that you need to create a workout routine for yourself, this handy tool allows you to plan your workout regimen as you gather all bodybuilding news.
When you have any queries, you can write to the team at admin@denchcity.com. The team is active on Twitter and Instagram as well. The app is completely free to download and is compatible with Android 4.4 and above versions. The latest updated version of the app has come up with a brand new UI dark theme. The app supports live video and streaming with an advanced search option.
Whatever might be your fitness goals, your workout experience, the equipment you own, this unique app is guaranteed to inspire you a lot as you make your steps ahead in staying fit and healthy. Download Dench City today and see the difference for yourself.
Are you ready to develop Mobile Apps? Or Need any Clarification? Get Ios App Marketing Services/ Mobile App Consultation Services from us.