In the fast paced world of tech its common for people to try out innovative, new mobile apps to see which suits their needs best. One of these apps is Gratitude Tipping, which is an awesome, new application that is becoming more popular each day.
It is an app that helps us to figure out exactly how much tip should be given to taxi drivers, waiting staff, hotel employees as well as bar staff.  Once your phone has identified your location, the apps clever algorithm will help you to tip accurately regardless on the country you're in. As a matter of fact, you need not calculate anything on your own and Gratitude performs all the hard work for you!
Around the world people's income is supplemented considerably by tips that they receive, although it is not the same in every country. Gratitude Tipping will help the user to locate the place where they are and, using their location, it will inform them of the amount to tip depending on the level of services received, the bill amount and size of their group.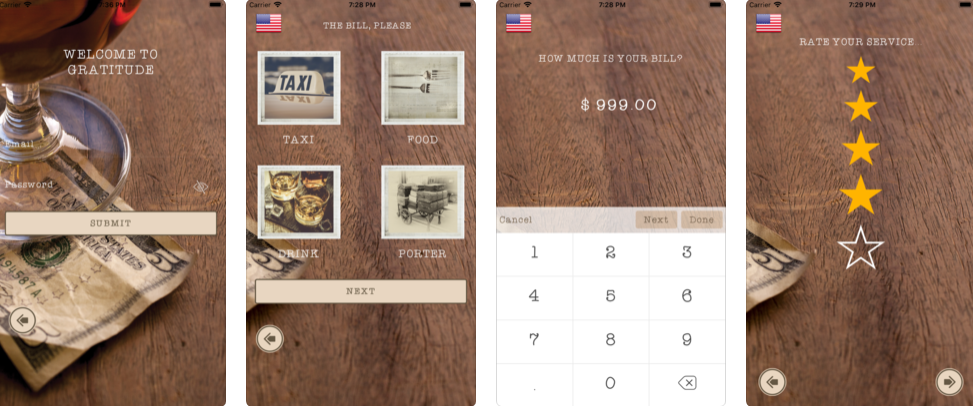 On top of this, the app has a travel guide for each country which informs the user of places to visit, must try food and drinks, language tips and country facts. Moreover, it will allow him them understand which eateries are of the highest quality, where they can get the best service, and which companies will prove to be good for groups.
Apart from its simplicity to use, Gratitude Tipping will allow the user to avoid any unfortunate situation where they may over or under tip. It will prove to be very useful, especially when one is traveling through several nations of diverse tipping cultures. Apart from this, Gratitude will also allow the user to avoid any tipping faux pas when they are travelling around the world.
Another notable feature of this great app is that it allows the user to give feedback of the venue they're in by making use of the rating system which, in turn, provides other users with helpful reviews.
Therefore it is evident from the above-mentioned facts that Gratitude Tipping can be considered to be amongst the best applications which will enable one to organize their finances and also manage them properly. There is no doubt that we think you are going to love this astounding app, especially if you happen to be a frequent traveller.
Worth Having App – Download for Android – For IOS– Website