Ever wanted to spend your leisure time with a simple and yet challenging game? If you enjoy having some thrill and at the same time want to put your brain power to a test, then Circle Spin would be a great choice.
Circle Spin – Spinning Circle Master Game 2020 is an app that belongs to the casual Apps and Games category and is given by TJ Earls. This is an endless circle spinning game that asks users to use a ball and hit the other ones on the spinning wheel. You have to use your full potential to survive for a longer time in this game.
The concept of Circle Spin is as simple as that you have a ball in the spin wheel. Using this ball, you have to hit the other balls in the spin. When you fail to hit them, your ball crashes and you lose a life. Your task is to destroy as many balls as you can and get more scores. The rotating circle in the game goes around or comes to halt or reverse spins. All that you must do is to wait for the exact moment to tap on the ball and hit.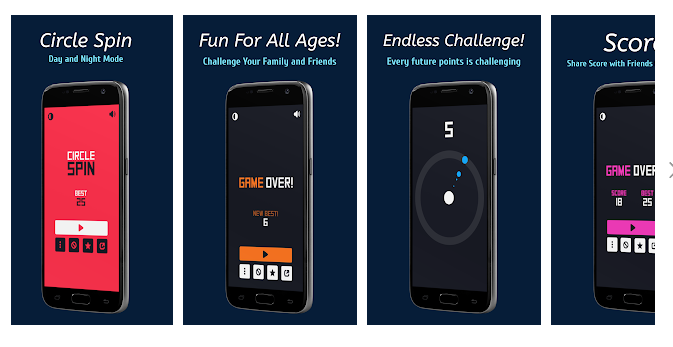 Though the concept is very simple, it is more challenging to score more and master the levels. It puts the concentration and coordination skills of your eyes, hand and also your brain to a test. The speed increases as you move to higher levels and it gets difficult to play. Circle Spin is so colourful which keeps changing every time, as you shift from one level to another. The app has stunning graphics and it helps you feel energetic throughout the game. Users will be able to share their scores with other people on social media.
The sound effects of Circle Spin are awesome and it comes in two modes – Day or Night mode which allows for bright and dark colours for game time. The game occupies a very less space and is compatible with Android 4.0 or later versions. It helps you train your brain with plenty of variations in each level. You can contact the support team on tjearlsgames@gmail.com in case you need to have any queries answered. The team of Circle Spin can be followed on Twitter: @tjearls and Facebook: @officialtjearls.
The app is free for download and has in-app purchases as you want to upgrade. Circle Spin is suitable for people of all ages and is a great pastime and I bet you would have hours of fun with this game.
Worth Having App – Download the app