Are you looking for a permanent solution for your phone if you are a frequent traveler? Didn't get what I want to say?  I'm asking about an app-based solution if you travel abroad for business purposes or any other work on a regular basis? If yes, then your wait has been over! I'm introducing to you an amazing app which will help you a lot when you roam around the world if you're living in the US or Canada. This app is a pretty handy for any regular International traveler. Let me introduce you to this awesome application which is known as "NomadPhone".
NomadPhone is an app-based phone solution for travelers. Doesn't matter how many times you cross borders or change SIMS, the app gives you a consistent and reliable way to be reachable by US or Canadian phone number from anywhere in the world. You can get a new phone number within minutes or transfer an existing number over. Nomad Phone has been developed by NomadPhone LLC and it's compatible with the iPhone, iPad and iPod touch having 8.0 or any later version of the Operating System.
The app gives you many facilities to avail, such as unlimited texting, calling to the US and Canada. Moreover it has many features like call forwarding, outgoing caller ID, and voicemail transcription. Nomad Phone is very simple as well as easy to use, has no hidden fees, and a helpful customer support team.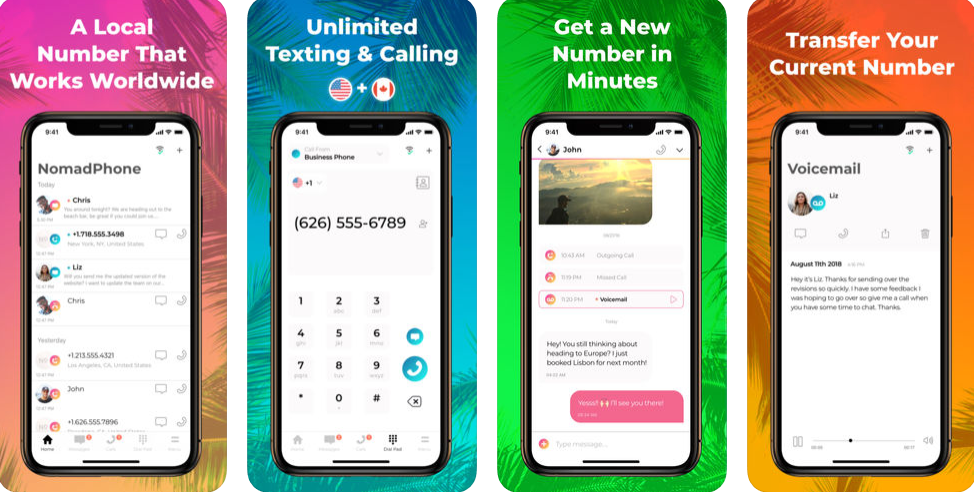 This app has been specially built for the nomads and travelers to stay connected and run businesses while on the road. It lets you use your US or Canadian phone number anywhere in this world. When you've a Nomad Phone app with you, you'll be reachable by a domestic phone number whenever and wherever very easily. You can call or text over Wifi or using a local or International SIM card to avoid roaming fees. This helps to reduce your phone bill while having free incoming and outgoing calls to the US and Canada. You can send unlimited messages as many as you want with free texting to the US and Canada. You can get a new phone number very easily or keep your existing number to use on NomadPhone.
Nomad Phone offers a free 7-day trial with a subscription option of $9.99 @ one month. This includes one active phone number and access to all the premium features. However, if you want to port your number, you can pay $12.99 as a one-time fee and you will be eligible for a free 14-day trial for this purchase.
Overall, Nomad Phone is a great app for the travellers. It's worth every penny. There are no annoying ads or hidden fees in the app.
Get it now and roam around the world freely.
Pros: easy to use; app worth for the travelers; use existing number or port; use over WiFi; free texts and calls; unlimited messages; reduce phone bills; less cost; 7-day free trial.
Cons: none.
Worth Having App – Download the App