Have you ever been excited to know about your future or about your past? What will be your first reaction if someone predicts your future? Are you enough bold to know about the good or bad things which is yet to come in your life? According to me, I would say that you'll be either excited or hesitated or both. Isn't it? People are scared about the bad things to come in their future and happy to know about the good things. But, you never know which is yet to come! So, if I give the opportunity to know about your destiny or anything else, will you grab it? Definitely, who'll not?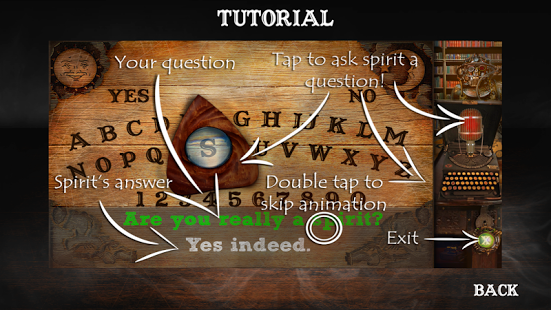 Lets see what it is? I have an awesome and interactive virtual spirit board game for you! Don't get frightened! It's just for fun and entertainment purpose! The app which I'm talking about is "Ouija Game: Real Spirit Board".
The app has been offered by Redwerk and it works with all the Android Smartphones having the latest version of the Operating System.
With Ouija Game, you can talk to the ghosts online. Yes, I'm not kidding. You can chat with the real spirits and ghosts from your mobile app and enjoy playing the game. Now what the basic strategy of this game? What you need to do to know about your queries? Let me tell you! Just ask some tricky questions from the Ouija about your destiny, future, and the things happened in the past, or just chat with the paranormal entities that you've called.
This game will be more enjoyable if you're hanging with your friends at a party or arranging a little sleep over. You'll get real and meaningful answers to all of your questions and can tease one another and make the party more entertaining, especially if you've a healthy sense of humor! In fact, you should definitely try it if you're not traditional at all. In this way you can know and learn more about your family and friends.
Asking questions don't mean that you can ask irrelevant questions, but, ask only those you're ready to know the answers as the supernatural entities are not toys. This is a game for fun and entertainment purposes, so don't be scared, use this app to learn something new about your friends or siblings.
One thing you should know about this app is that, no paranormal activity is scientifically proven in this app and also no spirits were hurt during the development of this project. It's just a game, so play is at a game only and have fun!
Overall, it provides you a smooth experience and it's not boring at all. This is an online virtual Ouija board game that actually works.
The app is available for just Rs. 252.14 on the Google App Store. So, gather around and start the Ouija Game and let the spirits guide you through life!
Pros: Real Ouija Board Game; ask questions from spirits; know about your destiny, past and future; get real answers; play with friends for fun; easy to use; amazing graphics; pleasant music; nice animations; smooth experience; unique concept. 
Cons: none. 
I give this app 4.3 out of 5 stars.
Worth Having App – Visit Official Website  – Download the App