Are you someone who hate to wear glasses? Feeling desperate to maintain your eyesight or even improve it? If you are someone who have started wearing glasses or have been wearing it for a very long time and wish to neglect it, then SniperSight is one ultimate app that you must use. The app aims in giving you a clear vision and helps you rectify your eye problems by natural methods.
Developed by Lost Technology LLP, the app falls under the Health and Fitness category in the App Store. The objective of SniperSight is to provide natural eyesight to people of all ages. The app aids people who are already wearing glasses or lenses or have underwent any surgery. This system is for perfecting all eye disorders including refractory troubles.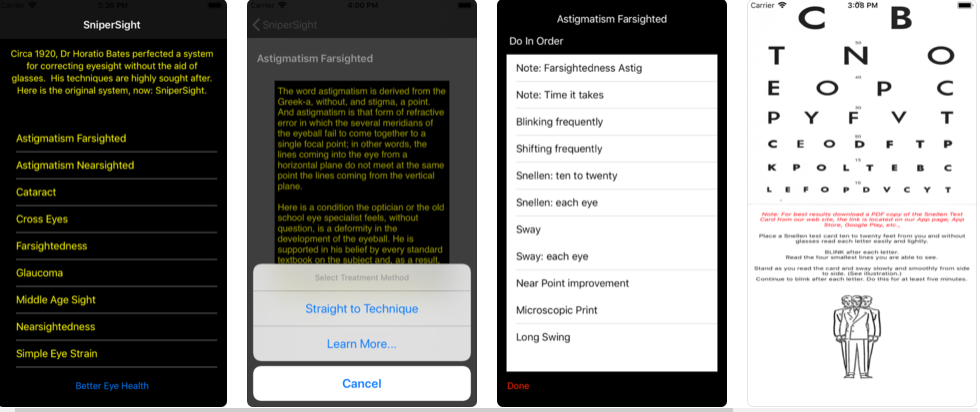 SniperSight is an app crafted by Dr. Horatio Bates' system for correcting eyesight without the help of glasses. His techniques are more often searched by people. The app provides a clear description of the various eye problems like astigmatism farsighted, astigmatism nearsighted, cataract, cross eyes, glaucoma, simple eye strain, farsightedness, nearsightedness and middle age sight. The Home screen of the app has a Better Eye Health button. On clicking the button, the users can see a clear explanation of all eye problems and the techniques to be followed to rectify those defects. The diversity of exercises that the app contain are really very impressive. Doing these exercises are very easy as all you have to do is just follow the instructions.
Be it children between 7 -15 years or the middle aged ones who are using contacts or glasses, SniperSight helps in removing them at the earliest. The app saves a lot of money that you spend for your eyes, just by these simple natural remedies. The app also provides a Snellen Test Card using which the users can measure their visual acuity. By placing this card at a distance of six meters, the users can test each eye separately.
SniperSight cannot be used by people with defective eyes or with other organic disturbances, retina/optic nerve degeneration or defects in other visual centers of the brain. All such problems should be taken care of by an eye doctor only.
The app costs $4.99 and requires iOS 11.3 or later versions. It is compatible with iPhone, iPad, and iPod touch. With a Family Sharing setup, the app can also be shared among six members of the family. What are you waiting for? Download SniperSight to ensure better eye health and prevent any other eye disorders. I strongly recommend you to use this app for a  strong, relaxed eyes.
Worth Having app – Download the App