Do you know that the shiny and sleek slab of glass in your pocket is overflowing with lacs of intelligent applications that can do every task that we can't even imagine! It can organize practically everything for you and give your brain a break. Yes, I'm talking about the Smart phones and their smart apps which have become the need of a human being today! When there is anything impossible for us to do, Smartphones just solve our problem within seconds. Thanks to the great minds and developers that everything is available to us for almost free on the web and the app store. So there is a brilliant app for organizing tasks and projects in your everyday life which is known as Suru, developed by Esoteric development.
With Suru, you can create a series of lists and outlines within seconds. You can add text, photos, their description and anything else related to the item. You can use different colors from the 7 color palette provided by the app. The app offers a neat and clean and easy-to-use interface, with features such as creating, organizing, specifying tasks and sharing your work with other users. It allows you to capture your ideas quickly and easily. Moreover, it helps you organize all your tasks and projects beautifully within a couple of seconds. You can create to-do lists, outlines, tasks, mind maps and organize all of them using colors, specify them using photos, export them to PDF and share with others.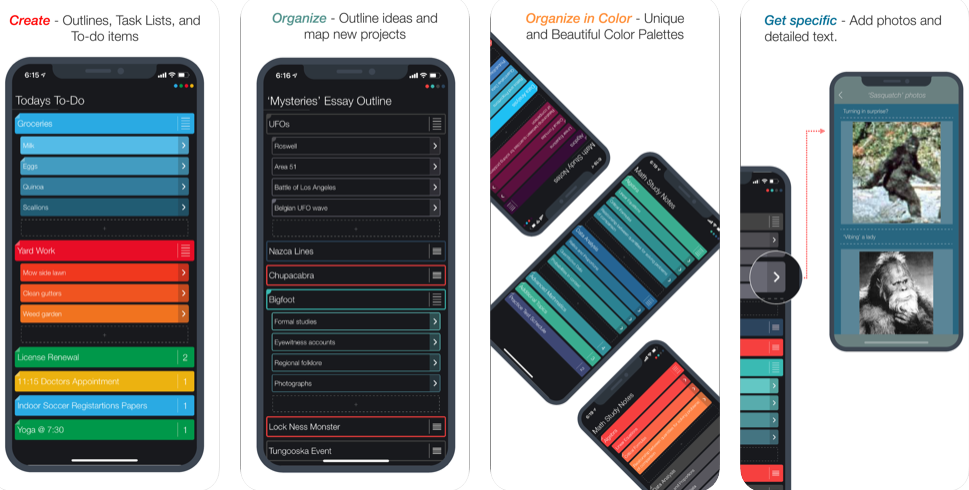 Suru is compatible with all the iOS devices such as iPhone and iPad having 11.0 or any later versions of the operating system and is compatible with macOS 10.12 as well! With Suru, you can do a lot of things such as:
Create tasks and organize them by priority and edit those task lists broken down into sub-tasks.
Add detailed text and photos relevant to your projects and tasks and outline your next paper or presentation.
You can take organized notes in class or at the office.
Brainstorm new ideas and projects from anywhere you're.
You can mark the items as complete to track your progress or productivity
Organize and structure your research.
Export your work as a beautifully formatted PDF outline which lets you share your lists and outlines with anyone.
There are 7 unique and interesting color pallets to use.
Always set reminders and alarms for all the important tasks and the pending tasks as well!
You can share your lists and outlines with your friends and co-workers and to other Suru users.
You can reorganize, re-color, and delete items or sub-items anytime you want, according to the task status!
Your lists and outlines will be synced to the cloud and you can get them anytime you want in future.
Overall, I would  say that there is no hard and fast rule for the Suru users! They can do anything in any way they like to work! It's your task, your project, and of course the choice of colors, text, etc., will be yours! You can be as general or specific as you like! So love organizing with Suru!
It's all yours! Available on the app store for just a small penny! Get Suru and become a Pro now!
Worth Having App – Download the App