TinyUmbrella is and always will be one of the most popular and powerful tools that we have at our disposal today. Used mainly by jailbreakers in the past, TinyUmbrella was the only way that we could downgrade our iOS devices to a version of the firmware no longer being signed. It did this by saving SHSH blobs, tiny pieces of data that went on our devices whenever we updated the firmware. Those blobs were then turned into custom IPSW files that we could then use to downgrade our iOS devices, mainly for the purpose of being able to install an earlier jailbreak.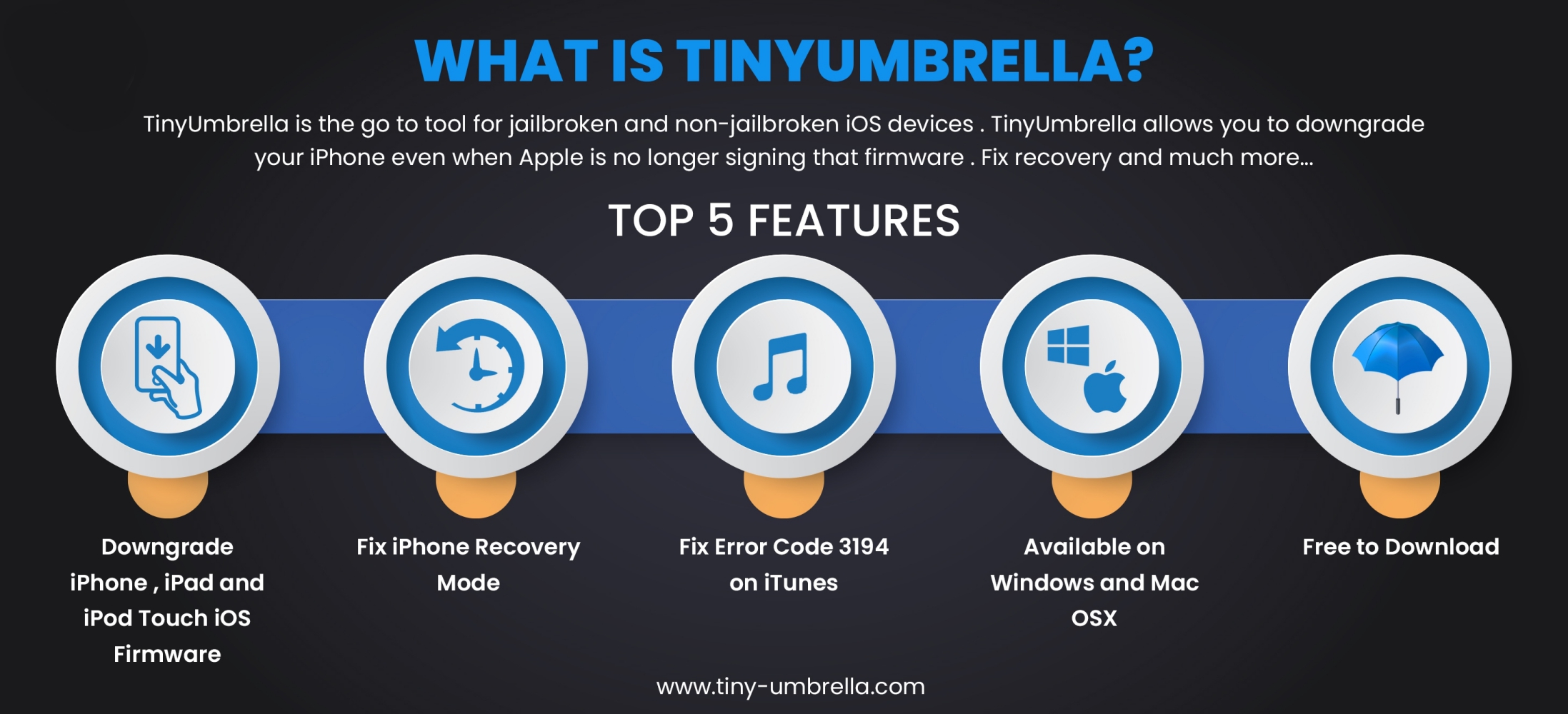 TinyUmbrella Features:
 TinyUmbrella is packed with useful features and, while it isn't quite the tool it used to be, it still offers some fantastic benefits.
Saves SHSH blobs for every update
Fix Recovery Mode errors
It helps us to fix iTunes error code 3194
It's free
It works on Mac and on Windows PC
Pros of Using TinyUmbrella:
 TinyUmbrella is incredibly useful and offers us many benefits. The biggest upside to it is that it helps us to save SHSH blobs so that we can downgrade again in the future. It isn't just for jailbreakers; there is any number of reasons why you might want to downgrade. For some, the earlier iOS versions offered better features and worked more efficiently, particularly on the older devices.
You also get the added bonus that, not only can it help you to fix irritating iTunes errors, it can even get you out of trouble when you find your iPhone or iPad locked in recovery mode – with TinyUmbrella, you can get out of it without having to restore your device and without having to lose everything.
Cons of Using TinyUmbrella: 
There is only one downside – right now the tool cannot be used to downgrade. The developers have reassured us that they are working on this and, once they find the right method for downgrading, they will update the tool so that we can use it for downgrading again.
The advice, from us and from the developers, is to continue using TinyUmbrella and saving your SHSH blobs whenever you update your iPhone or iPad. Sooner or later, that update will come and, if you don't have any blobs saved, you cant use it to its full potential.
Start using it today and be ready. Follow us on Facebook for all the TinyUmbrella updates.