Now people need advancement in every arena which makes their daily task easier and trouble-free, Starting from the waking alarm app to the apps which helps you to move your life smoothly and safely. Thus the mobile application creates a strong bond with the life of humans. One of the great apps that recently got fame among travelers around the world is "Travi" an extraordinary app for itineraries created with the idea of simplifying any itinerary.
Before the arrival of itinerary apps, we planned our travel with different apps. To find any information, food, ride, and to share our insights with friends. Then finally we have to align our options carefully to plan a good itinerary. Here the magic of Travi begins, with the help of Travi you don't need any other apps to collage your options. All you have to do is select your destination and plan your dates.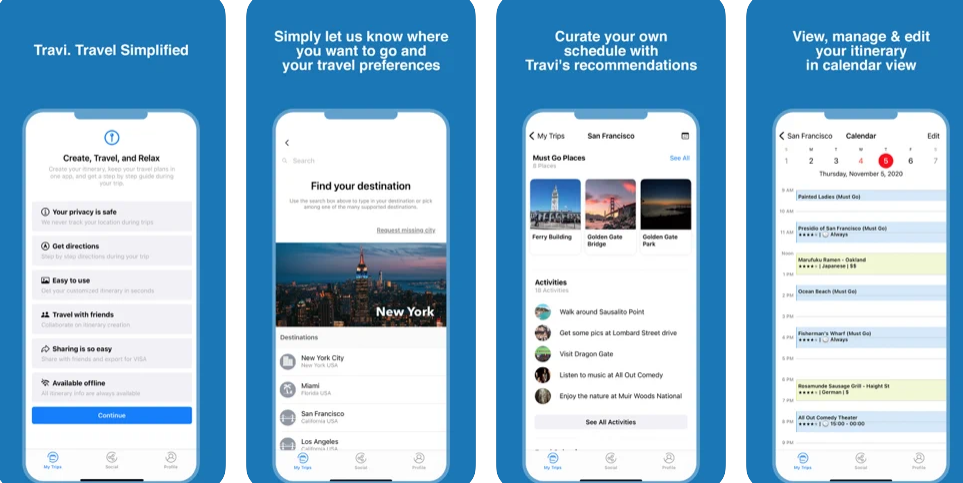 Travi is specially designed to organize a memorable itinerary, It gives all details about the destination and even gives suggestions for restaurants, transportations and also recent activities like sport or exhibition events was described with timing info. These data were collected by Travi according to your dates on vacation. Also, your plan was crafted with a perfect timeline and sent to your mail account. You can edit your itinerary if you want by using the "Calendar overview" icon. This makes travelers experience a fulfilled itinerary.
Travi created a unique platform that connects all the travelers who use the app and they can share their itinerary experience with others. They have to create a profile using their mail account and then they can share their insights on their vacation. Also, they can share photos and videos. By chatting with other travelers on your destination you can obtain some more info about their experience.
Seller of Travi, Giuseppe Lupo designed this free app with safe and secured. Travi never tracks their users and their activities. With the presence of 4 languages like Spanish, English, Traditional, and Mandarin Chinese in the app covers most of the people. Travi needs iOS 13.0 or later versions to work, it was compatible with your iPhones and iPads.
After you sign in with your mail account, Travi sends their newsletters and guides about their future updates in the app. Team Travi was always ready to clarify the doubts from their users, You can access them on the developer's website and also on social media accounts like Facebook, Instagram, and other channels. Travi got the best reviews from critics and users because of its hassle-free design and its simplified interface.
Worth Having App – Download the App