Have you ever wanted to share images or other documents from your device to other people? You can be a doctor, a teacher or a scientist; you might have often wanted to share the images or documents on your screen to someone else live. There comes an education app launched by IPEVO to assist you with this.
IPEVO iDocCam turns your smartphone into a wireless document camera. Using this, you can easily have full control of your phone's camera and turn it into a document camera enabling for projection on bigger screens. Offered by IPEVO on March 26, 2020, the app will be most useful to all students, researchers and all others who need document imaging and projection for project and other purposes. Using this, you can control the light, exposure, rotate the image, freeze and do a lot more.
One can use IPEVO iDocCam in two ways. You can use the app to just use the mobile's camera to view and adjust the live images through it. The next use is to install the software IPEVO Visualizer software on any other device like your lap, pc or mobile and use it in accordance with this particular software installed on your mobile. You can connect both the devices to the same network and launch them both. Now you will be able to use the smartphone as a camera source in your visualizer.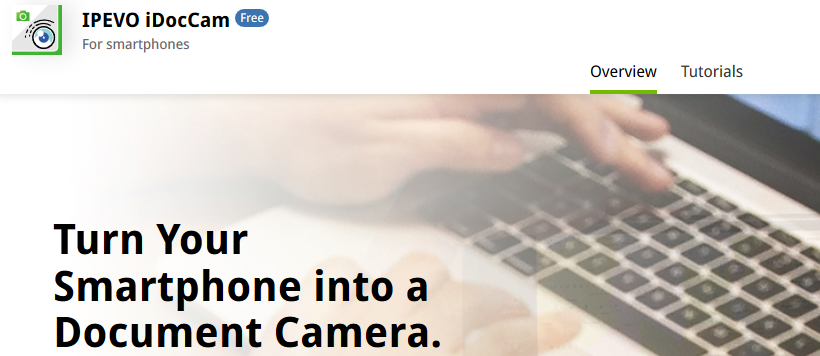 Using this app, you can connect it to an external display via AirPlay or HDMI/VGA and live images of your phone's camera in iDocCam wireless large-screen projection. Apart from making changes to the images using the visualizer, you can use the different features available in the app to take snapshots, record videos, set up live broadcasts, and so on. IPEVO iDocCam has many notable features; the company does not ask you for any registration or collect your personal information. All the pics and videos or only stored on the local drive and you need not fear about them being compromised by third parties.
Apart from the above mentioned uses, you can split the screen with IPEVO Visualizer software. You can make use of the IPEVO Annotator software to record science experiments; explain the math or geography lessons and so on. There is also the IPEVO Picture-in-Picture software that can be used in many different ways.
IPEVO iDocCam is completely free for download and comes with certain in-app purchases. It is available for both iPhone and Android devices. All the basic and paid features are made available for free until April 2020. Whatever it is that you are visualizing, you can easily screen share them among different devices. I bet this innovative application will be useful to many people working across various fields.
Worth Having App – Download the app