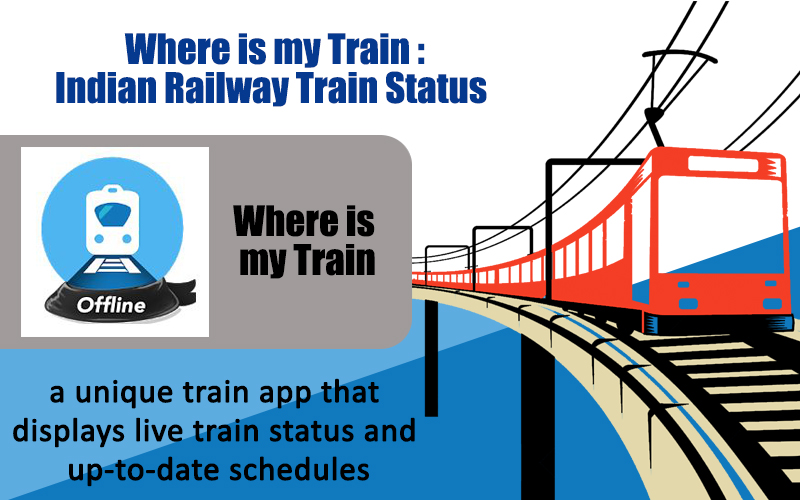 We know that Indian Railways is the lifeline of India with millions of passengers travel every day. To equip the passengers with a PNR status checker and train location checker there are many apps have been launched for the smartphone users. But Where is my Train: Indian Railway Train Status developed by Sigmoid Labs and its Affiliates seems to be best among many apps.
Where is my Train is a unique train app that displays live train status and up-to-date schedules. The app functions offline without needing Internet or GPS. Moreover it is also packed with useful features such as destination alarms and a speedometer. Amazingly it is the highest rated travel app in India.
Reasons of why it is the highest rated train app?
Spotting Train Accurately
The users can get live train status of Indian Railways anytime, anywhere. When you are travelling on a train, this feature can work without internet or GPS as it uses cell tower information to find the location. It is also possible to share current train location with your friends & family via the share feature. The users can also set an alarm to wake you up at a fixed time before your railway station arrives.
Avail Offline Train Schedules
The train app has the Indian Railways timetable offline. You don't have to know train number or names as our Smart search feature permits you to use train source & destination or partial train names even with spelling errors.
Coach Layout and Platform numbers
Get details on coach position and seat/berth layout before you board the train. It also shows platform numbers for boarding and intermediate stations wherever available.
Super efficient in Battery, Data Usage and App size
More importantly the app is very efficient in battery and data use as key features like finding train locations and schedules can work offline without Internet or GPS. The app-size is relatively small despite having a lot of information offline.
Check Seat Availability and PNR Status
The users can check seat availability and PNR status on the official Indian Railways website within the app.
Verdict
I spotted Where is my Train: Indian Railway Train Status developed by Sigmoid Labs on the Play Store last week and I had to download it. I gave it try myself and needless to say, this accolade of gem does not disappoint me.
DOWNLOAD FROM PLAY STORE :