Writing a long paper is already difficult. Writing a good one is even harder. And yet, writing a good, cohesive, professional long paper is the greatest challenge of them all. The longer a paper is, the more likely you are to make mistakes, and the more tedious it is to comb through the essay and find them all. Of course, turning in a paper with too many mistakes is a serious problem for your grades, so having a tool to help you out, such as these iOS proofreading apps, is a great boon.
1. Grade Proof Proofreading and Plagiarism Detection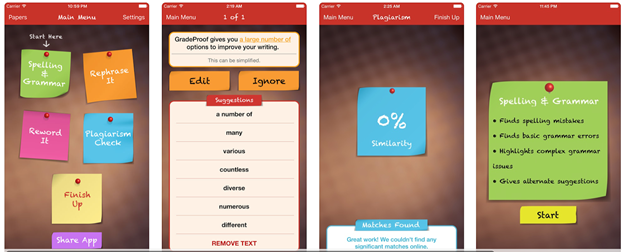 Writing well is one thing, but making sure you haven't accidentally plagiarized anything during your research is just as important. After all, a paper that has been plagiarized is often given a score of zero, regardless of its other redeeming qualities. Grade Proof does many things, chief among them the detection of plagiarism, but it still performs most of the other tasks you would need from an app like this. It can check for grammar, spelling, and even proper syntax. You can store texts through options like DropBox, or send them through email. It can also enlarge or reduce the size of text, if you need it, and offer suggestions on better word usage or grammar. Ultimately, an excellent tool for any student.
2. Ginger Page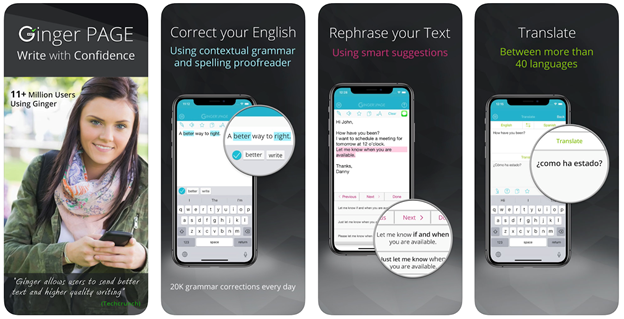 Ginger Page isn't an app in and of itself, but it offers keyboard applications that allow you to use it on your mobile device. Personally, we don't recommend writing a paper on your phone, but if the need arises Ginger Page is one of the best options available, as it doesn't proofread your writing only but helps you write it without error in the first place. With word prediction algorithms and the world's best understanding of contextual meaning, Ginger Page can help you crank out a paper on your phone much faster than nearly any other app, while also being smart enough to determine whether or not it is making any sense in the context you're using. As for proofreading, that understanding of context helps with the corrections and suggestions it makes, ensuring that you get more accurate help.
On top of that, Ginger Page offers translation in over forty different languages and allows you to create a personal dictionary within the app.
3. WhiteSmoke Writing Assistant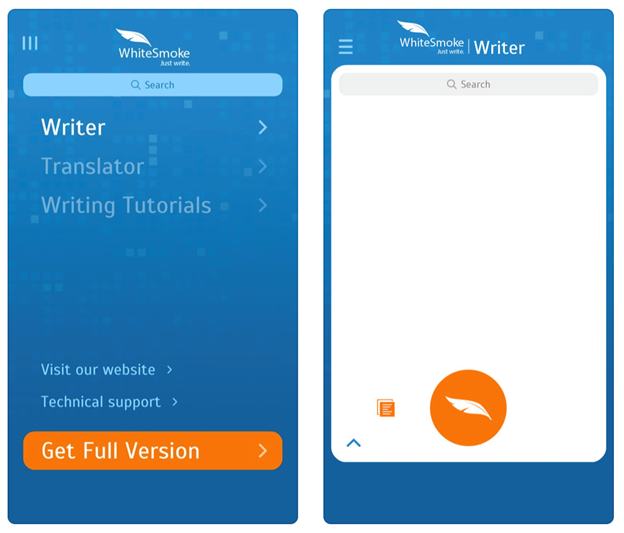 Simple and practical, White Smoke is an MS Word compatible application that can serve many needs. It has specialized error correction, with spelling correction algorithms designed from errors made by those with dyslexia. It also has audio capabilities, so you can hear how your own writing sounds, and how the replacement suggestion made by the app sounds in comparison. It also has a word search function and a notable strength in understanding the context of the writing that it is attempting to correct. Like many other proofreading apps, it can translate writing into many other languages as well.
If you want to learn to write better instead of just having it corrected all the time, the app even offers writing tutorials.
4. iA Writer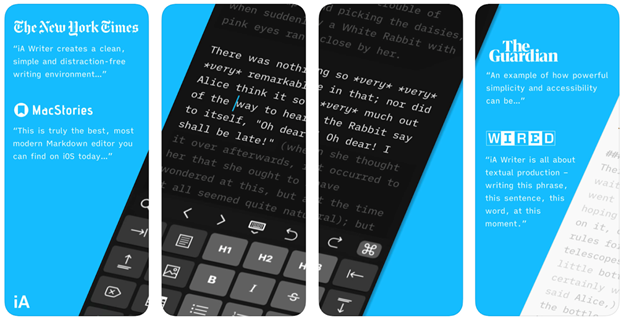 Another app with a practical and Spartan design, iA Writer has a minimalist interface, but plenty of tools and advantages in its use. For instance, the app specializes in making your writing as readable and understandable as possible, by independently checking for syntax errors in your writing, as well as words that are repeated too often within your paper. It can also advise you in which sentences are unnecessary or can be rephrased for better clarity. Naturally, it can do what you would normally expect of a proofreading app as well, such as spelling and grammar checks.
Other than that, iA Writer does a very good job of keeping everything organized and ensuring that you never lose any important data. It can synchronize with cloud storage like iCloud or Dropbox and can organize all of your writing with folders. iA Writer isn't quite as comprehensive as some of the other apps we've listed here, but if all you need is an app that can check your work, it gets the job done admirably.
Alternative Methods
Remember, no matter how good of writing and proofreading app you have, writing your paper on time is the most important thing. None of these apps will help you write a stellar paper at the last minute because you procrastinated. On the other hand, it's understandable why college students can't afford to get their papers done on time. Maybe you just don't have enough time, with all of your classes taken into account. Or maybe the subject matter is so unpleasant you can barely force yourself to plow through it. Either way, there are other options.
If you need help, a professional custom essay writing service is a great option. If you employ a legitimate service, you can have them write a paper of nearly any length, on any subject, and within nearly any timeframe. Granted, this costs money; but if you value your time or satisfaction more than the cost of hiring such a service, it's a fair trade. Professional writing services can provide you with a high-quality, all original essays worth your buck. Just make sure the service you choose is well and truly legitimate.